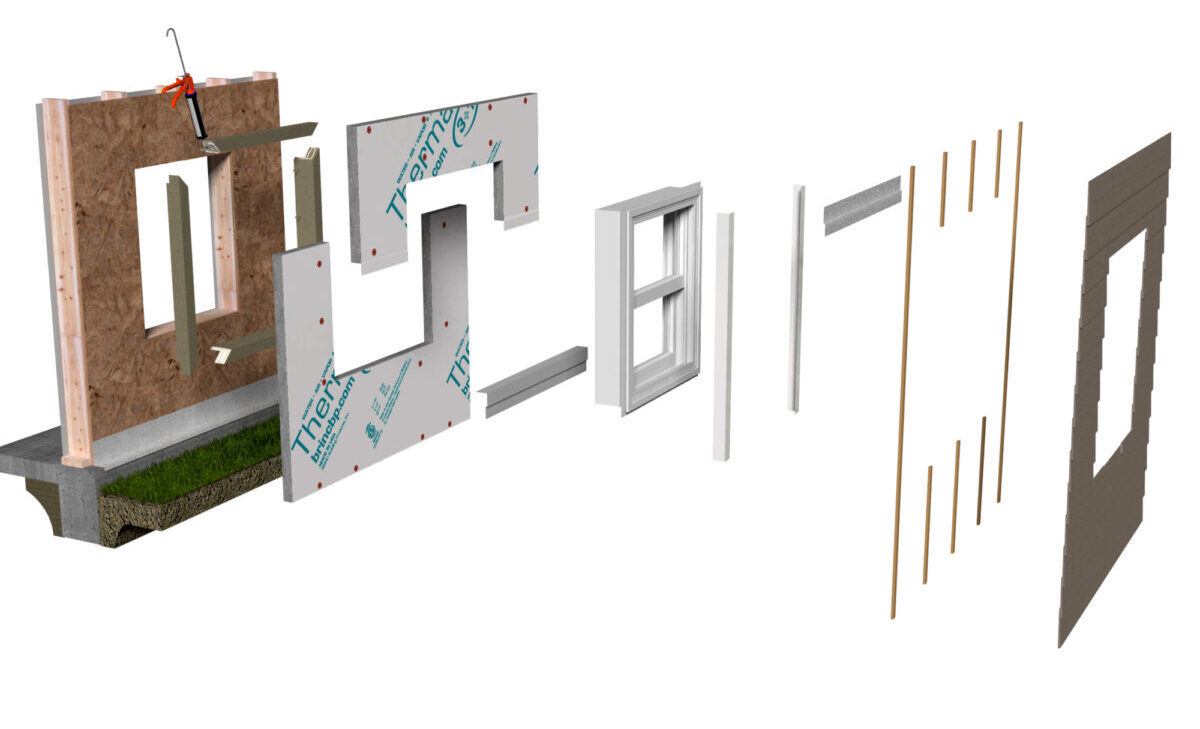 ThermalTight: Water – Air – Vapor + Thermal in One Panel
Building science experts have proven that there need to be four control layers in any wall: Water, Air, Vapor, and Thermal. Not only do the layers matter, but their placement in the wall assembly makes a big difference in how well they function.
When the WRB is exterior to the insulation, it manages bulk water at the outer surface of the wall assembly – providing better protection from water damage than traditional methods where the WRB is installed first, up against the sheathing.
ThermalTight act as a water barrier, but it also fills the more demanding role of a weather barrier. Air movement is stopped at the outer surface of the wall when the patent-pending flaps are sealed, completing the air control layer, and making ThermalTight an effective air barrier.
Each ThermalTight panel consists of a self-gasketing vapor permeable WRB laminated to a semi-permeable Neopor® GPS rigid foam insulation board (R 4.7 per inch), effectively managing water – air – vapor + thermal, all in one panel. The ThermalTight System is not only about ease of installation – it's about how the material components work together keep your walls dry.
---
The ThermalTight™ System
The ThermalTight System makes it easier to build better, with a wall system that solves the challenge of building airtight and continuously insulated – with one less trip around the building. Backed System by a 15 year warranty, the components include: ThermalTight, ThermalBuck, BRINC Flashing Tape, BRINC Flexible Flashing Tape, BRINC Double Sided Tape, DAP® DYNAFLEX 800 sealant and DAP® DRAFTSTOP 812 spray foam.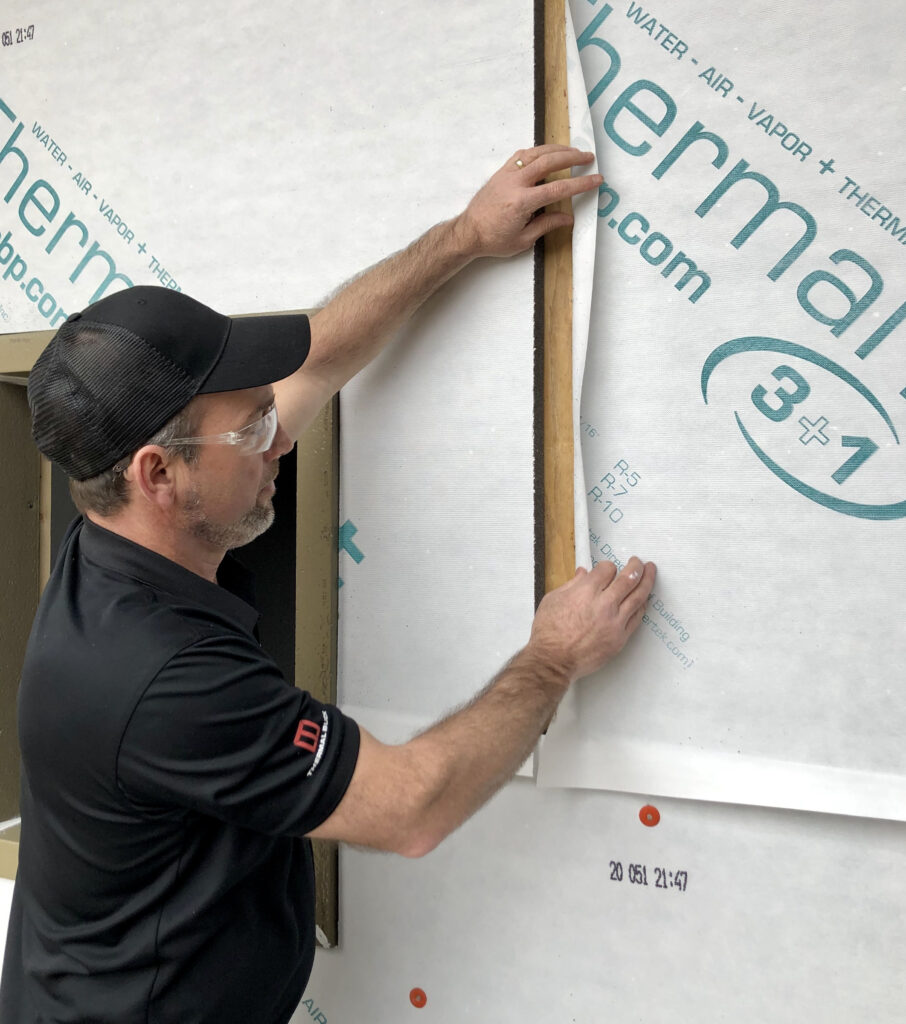 The WRB: Water, Air & Vapor
Each ThermalTight™ panel features a multi-layered WRB material that not only controls water and air, but it's also vapor permeable (VP) – allowing moisture to move in both directions. While not as important as bulk water management, the high-performance homes we build today are tighter than they've even been before, making moisture management an important consideration.
The self-gasketing, non-woven, non-perforated polypropylene WRB is laminated to the Neopor GPS rigid insulation, resulting in one panel that insulates and protects the building envelope.
ThermalTight™ features an innovative patent-pending flap system that overlaps the rigid foam boards 2″ on all 4 sides. These flaps are used to seal the panels together, allowing the WRB to function not only as a water barrier, but as a continuous air barrier too.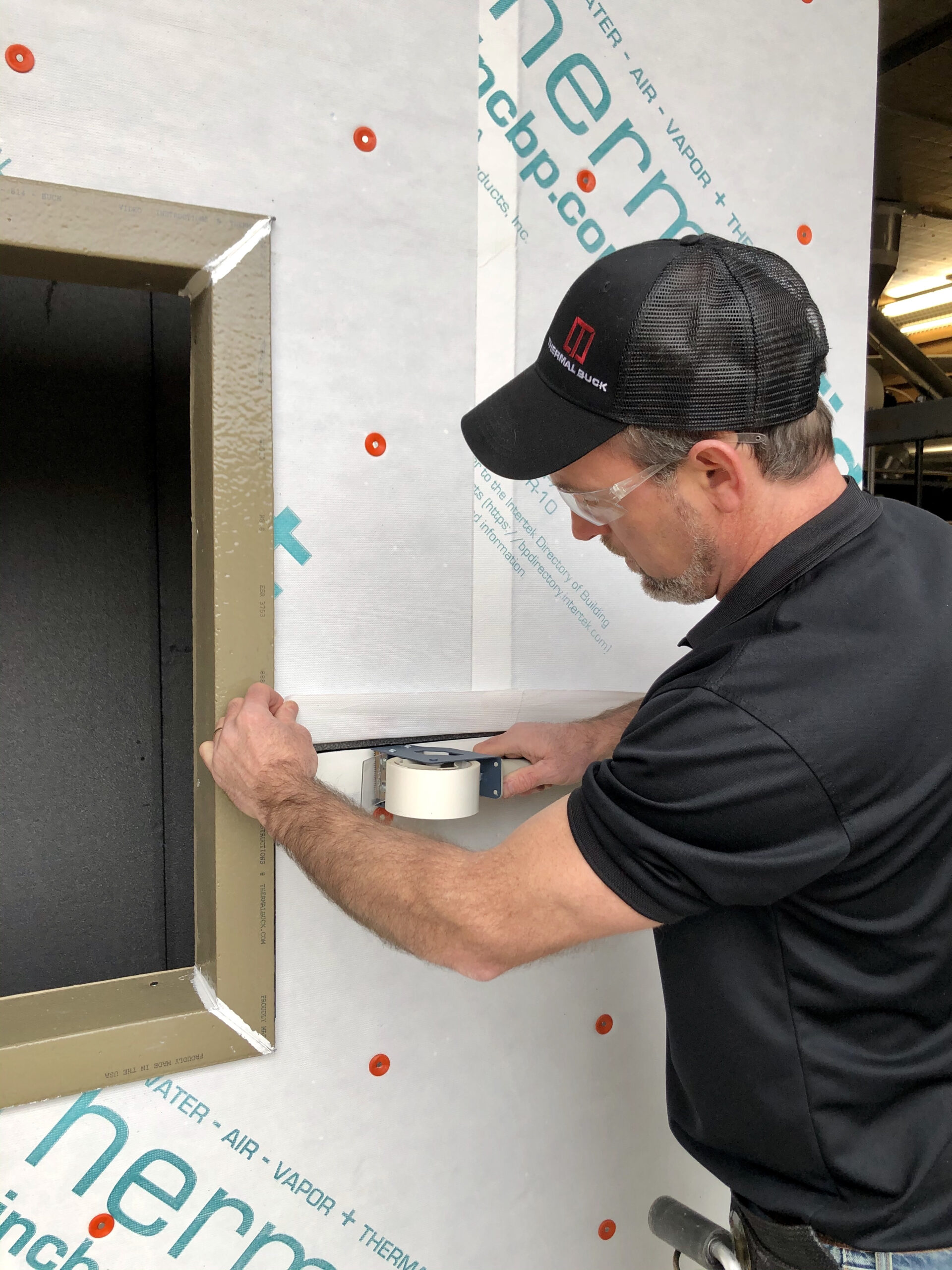 The SEAMS: BRINC Double Sided Tape
Where two ThermalTight panels meet, one panel flap is removed – leaving just one flap to seam the panels together. BRINC Double-Sided Tape is adhered to either the underside of the 2″ flap, or to the adjacent panel (where the flap has been removed). Once the release liner is pulled, the flap is carefully smoothed over the tape, repositioning to avoid wrinkles as needed. The last step is to roll the seam, to ensure good adhesion.
Taping the seams underneath the flaps, rather than on top of each seam, prevents the "reverse shingle" effect common with most panel systems – resulting in a continuous air & water barrier with excellent drainage.
BRINC Double Sided Tape is designed for superior bonding to the ThermalTight WRB. Constructed of a clear, double coated polyester film, each side is coated with an extremely aggressive acrylic pressure sensitive adhesive (PSA).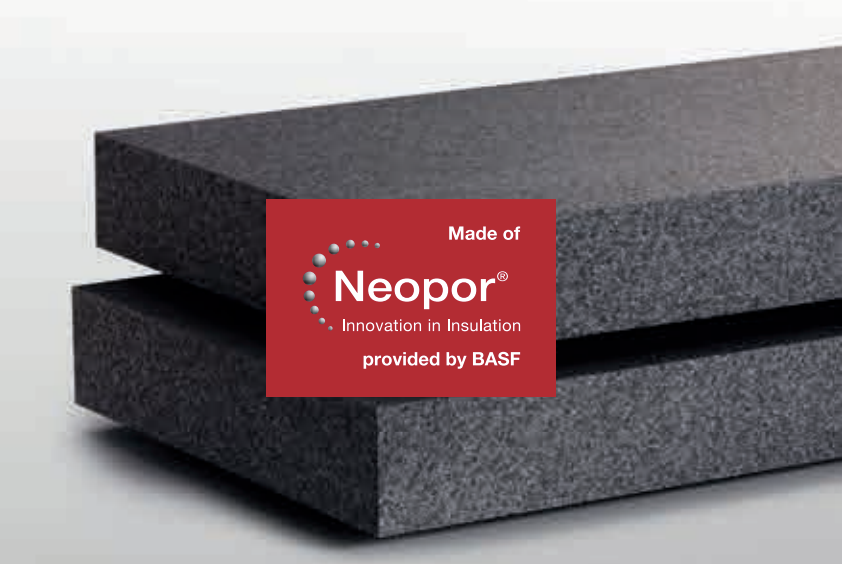 Neopor® GPS Insulation: Thermal & Vapor
Unlike some rigid foam insulation materials, Neopor® Graphite Polystyrene increases in R-value as temperatures drop. Made up of small pockets of air rather than harmful blowing agents, the graphite in Neopor® GPS reflects radiant heat energy – increasing the material's resistance to the flow of heat, what we refer to as R-value. Rated at an R-value of 4.7 per inch. at 75°, the R-value for Neopor® GPS increases to R5 per inch at 40° and R5.2 per inch at 25°.
Neopor® GPS maintains the highest long-term R-value of any insulation material on the market. 
---
While the ThermalTight™ WRB is vapor permeable, the Neopor® GPS insulation layer is semi-vapor permeable, which means it still allows moisture to move, but to a lesser degree. The varying degrees of permeability make a significant impact in how the ThermalTight System works. Read more about how ThermalTight panels move moisture here. 
---
The Sustainability of Neopor®
One of the reasons Neopor® maintains its R-value over the long term is that it contains no blowing agents (relying on air and graphite), making it one of the greenest types of rigid exterior insulation materials. The manufacturing process of Neopor® rigid foam uses up to 30% less material than other rigid insulation types, reducing the consumption of natural resources.
Neopor® Plus GPS is GREENGUARD Gold Certified for products for low chemical emissions, and been referenced by both the Collaborative for High Performance Schools (CHPS) and the Leadership in Energy and Environmental Design (LEED®) Building Rating System.
BASF is proud to be a part of team behind the EC3 tool, designed to help building professionals quantify, report and reduce the embodied carbon impact of their projects. Embodied carbon is the carbon dioxide emitted during the manufacturing, transportation and installation of building materials. (neopor.basf.com)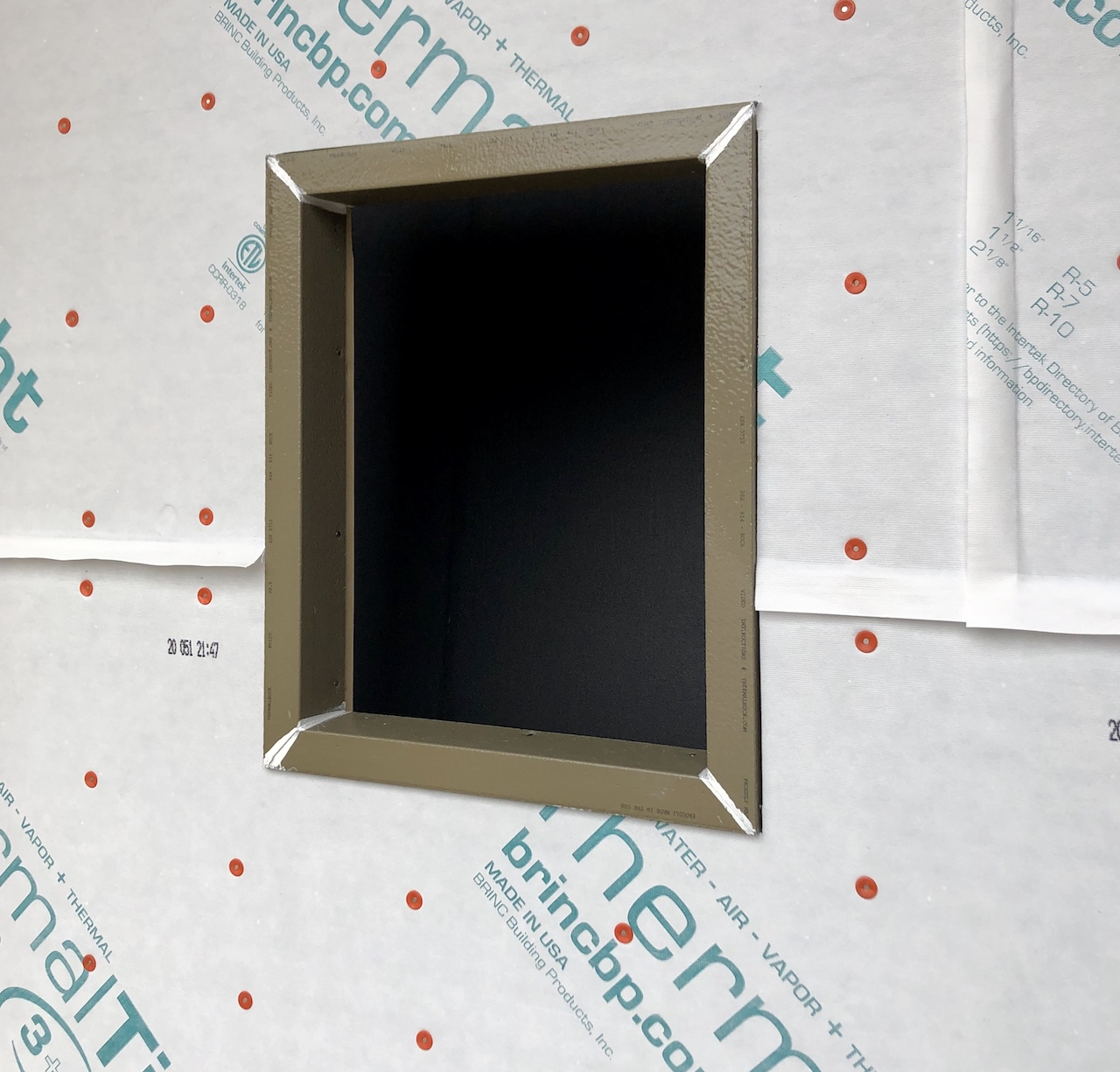 ThermalBuck: The high-performance window buck
Before the ThermalTight™ System, there was ThermalBuck. Designed to solve the challenges of installing windows with exterior insulation, ThermalBuck extends the mounting point for windows & doors to create a flush plane for cladding attachment.
When installed with DAP® DYNAFLEX 800 sealant, ThermalBuck is waterproof, and insulates with an r-value of 4.4 per inch, preventing moisture and creating a thermal break at a typically weak point in any building – the rough openings.
Described as a "game-changer" in the building material industry, ThermalBuck works will all types of exterior insulation materials.
With the introduction of the ThermalTight™ System, BRINC Building Products, Inc. now has a complete wall system to match the performance and installation standards of ThermalBuck, and once again change how we build for the better. 
---
The FLASHING: BRINC Flashing & BRINC Flexible Flashing Tapes
BRINC Flashing Tape is the recommended window & door flashing tape for the ThermalTight™ System. This butyl-hybrid features excellent adhesion and installation at extreme temperatures (10°F – 150°F). It tightly seals around fasteners and corners, resisting puncture. The durable film facer allows for a smooth application, with fewer wrinkles. Initially repositionable for ease of use, BRINC Flashing Tape must be rolled to active the pressure sensitive bond for maximum adhesive. 
Available in 4″, 6″, and 9″ roll widths – 75′ in length. Consider wall assembly variations when choosing the right width. For ThermalTight Installation with Strapping or circular wall penetrations, we recommend substituting BRINC Flexible Flashing Tape at the head only (available in 6″ x 75′ length rolls).  
BRINC Flashing Tape is also used to seal the outside corners of ThermalBuck, Z-Strip to sheathing transition, and penetrations. 
BRINC Flexible Flashing is a high-tack, self-adhered tape that's extremely flexible to ensure a watertight, airtight fit around more challenging corners and curves. Butyl adhesive bonds in the toughest environments, ensuring a long-lasting, water and airtight seal. Install temperatures range from 10°F – 150°F. Initially repositionable for ease of use, BRINC Flexible Flashing Tape has no elastic memory, and will not creep. .
Spray Foam: DAP® DRAFTSTOP 812 Non-Rigid Polyurethane 
This is a low pressure, single component polyurethane foam designed to fill gaps between windows, doors, and rough openings. It can be used on the interior, between ThermalBuck and the window framing. Fill in any large gaps around ThermalTight panels and ThermalBuck if needed. 
Airtight seal, non-rigid
Protects against air, water, and sound intrusion
Highly elastic ± 30% joint movement capability
Closed cell, will not absorb water
Meets AAMA Standard 812.
When using DAP® DRAFTSTOP 812, Foam Applicator and Foam Cleaner are needed for application – sold separately.
Sealant: DAP® Dynaflex 800* Premium Modified Polymer 
This residential grade sealant provides a durable, 100% waterproof & weatherproof seal around windows & doors. Working time = 30 minutes. Tack free in 2 hours. Complete cure in 24 hours. Packaged in traditional sealant tubes, it requires a standard sealant gun for use.
Adheres to most common building materials
Excellent flexibility
Adheres to wet surfaces
Extreme temperature use – 0°F to 120°F
ASTM C719 +/-25% joint movement capability
Low VOC
Meets AAMA 803 & 808, ASTM C920
*
For ThermalBuck installations in CANADA, use DAP 3.0 Window, Door, Trim & Siding High Performance Sealant.